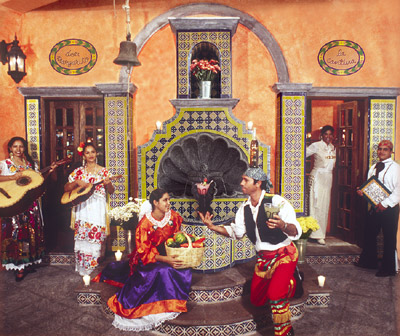 Concept:
La Casa de las Margaritas is a celebration to good taste, great food, and unforgettable moments. Designed to offer the visitor a rich and varied mexican experience, the restaurant dresses up for the celebration every night, and surrounds the visitor with the sights, sounds, aromas, tastes, and laughter so characteristic of festive Mexico.
Its architecture decorated with expressive, diverse and colorful arts and crafts of Mexico, and a professional staff become the perfect setting for a memorable Mexican Celebration for your group.
We have detailed the many services and options available to incentive travelers as well as convention and other groups.

Music:
Mariachi (10 elements) 30 minutes session.
Marimba (4 elements) 45 minutes session.
"Cielito Lindo" (2 elements) 45 minutes session.
Jarochos (3 elements) 45 minutes session.


Dress Code:
Casual.

Decoration:
Mexican arts and crafts from different regions of our country throughout the restaurant dress each of the different areas in it. La Cantina Don Margarito; La Fonda Santa Cecilia, transports you to a typical kitchen from Puebla; Los Patios, full of flowers, music and festivity; and Los Balcones, where your group can enjoy all of the party and at the same time feel close among themselves.
Parking:
La isla Shopping Village counts with valet parking and for groups there is an special area for buses.
Boat Arrivals:
You can also arrive by boat, the dock is located a few meters from our restaurant.
Schedules:
Daily from 12:00 to 24:00 hrs.